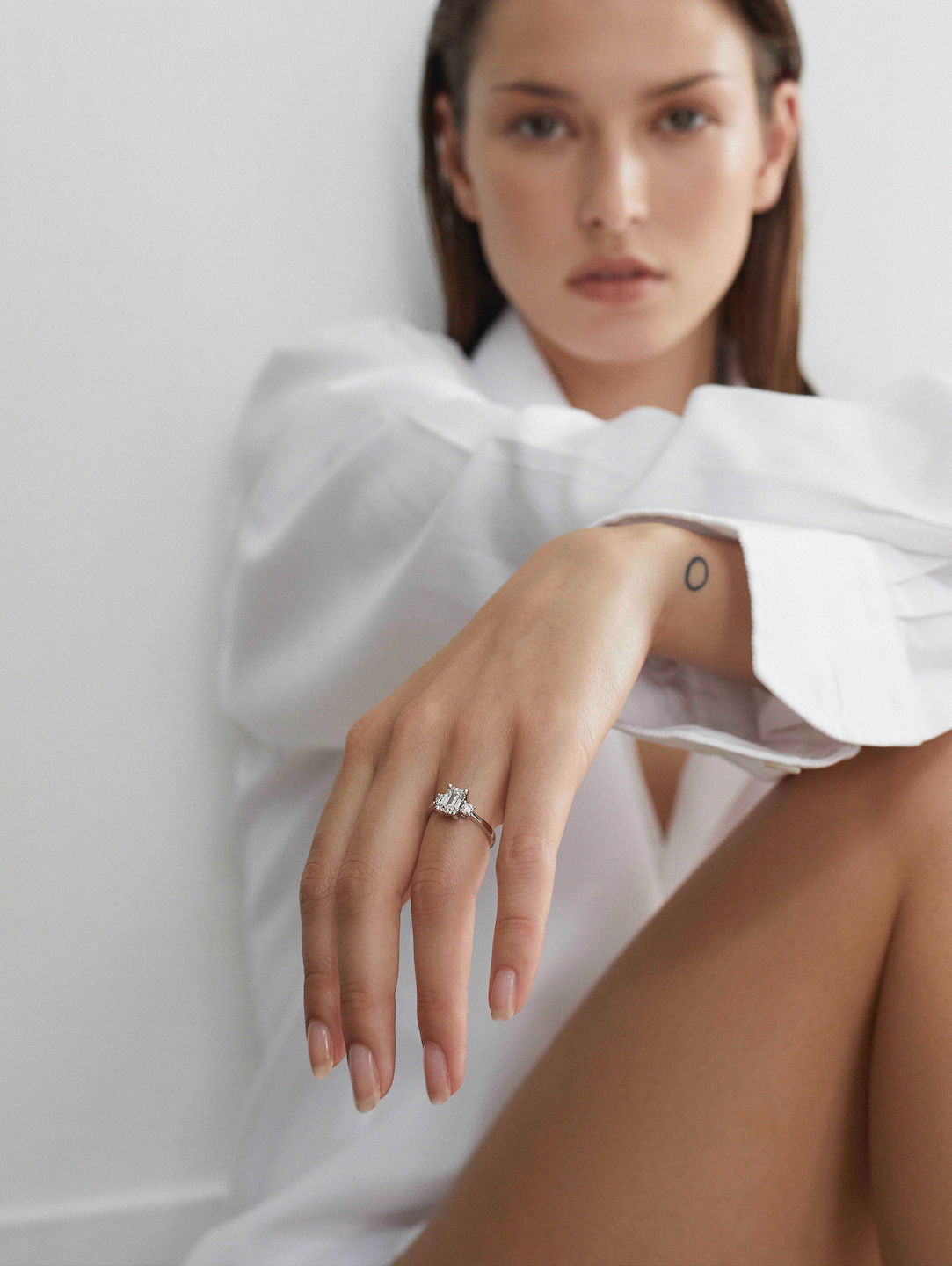 ALL DIAMONDS SHOULD HAVE GENTLE BEGINNINGS
GENTLE DIAMONDS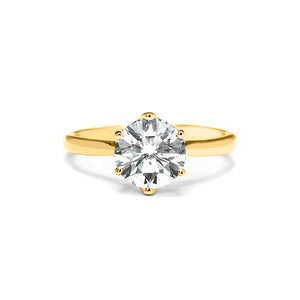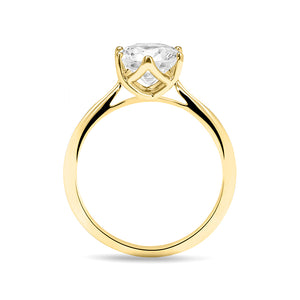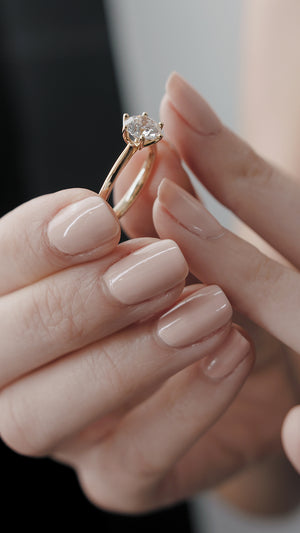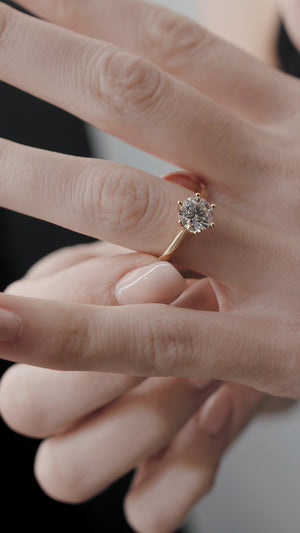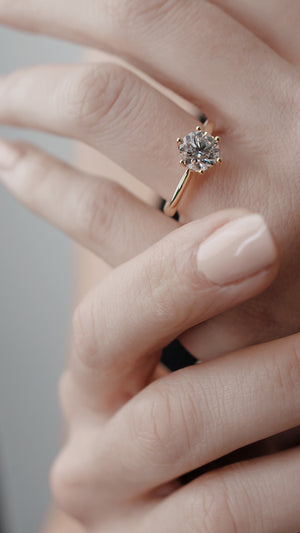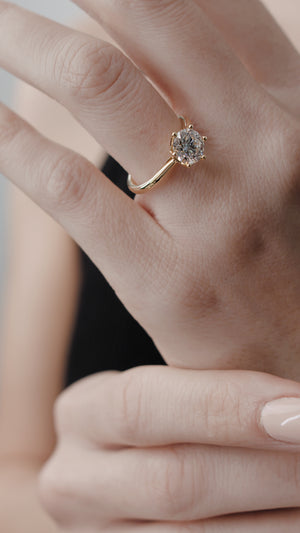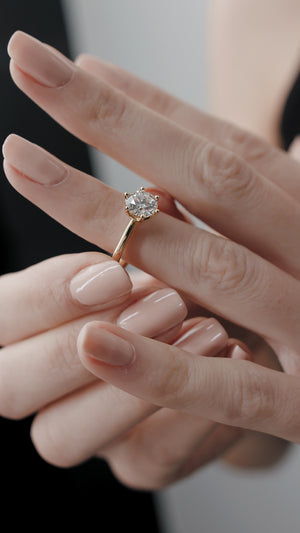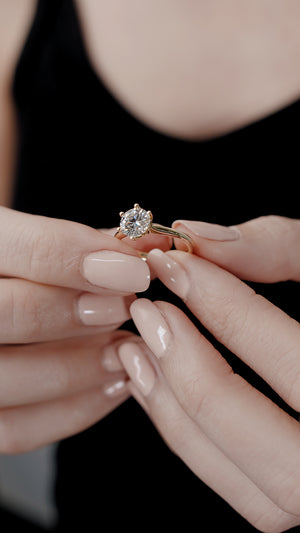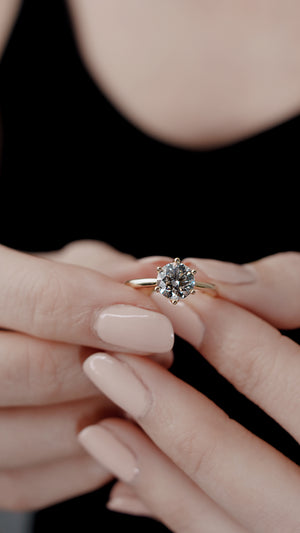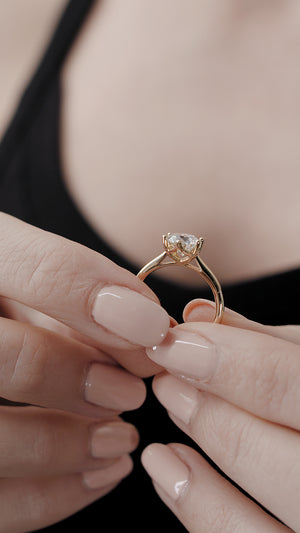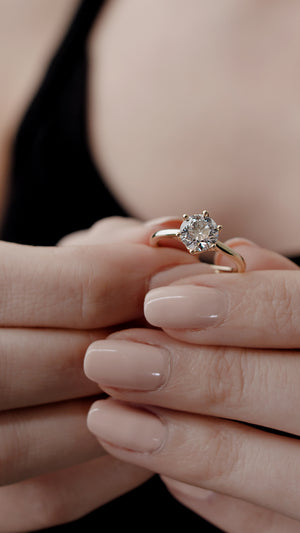 For reference only; move slider to see other sizes that might suit you. This hand is a UK size L.
Augusta Ring 18K Yellow Gold
A more sustainable choice
Made With Love &
Gentle Diamonds
Description
Size Chart & Guides
Additional Info
The Augusta ring is the ultimate classic solitaire featuring a beautiful round brilliant diamond set in a 6-prong intertwined basket setting. This stunning diamond sits on a polished band in 18K gold, a timeless option that will win her heart.

| | |
| --- | --- |
| Metal Type | 18K Yellow Gold |
| Metal Type | 18K Yellow Gold |
| Setting Style | Six Prong Solitaire |
| Stone Type | Lab Grown Diamond |
Metal Type Guide
Ring Size Chart
Metal Type Guide
18K or 9K White / Yellow / Rose Gold
White gold is the best choice for anyone who wants to have the most amount of gold while still possessing enough durability. Rhodium plating provides an extra layer of protection as well as a shiny reflective appearance. Our 18K white gold jewellery is made as per industry standards of an alloy of gold and other white metals including silver and palladium and is plated in rhodium for a durable and scratch resistant finish.
Yellow gold is historically the most popular metal used for wedding and engagement bands. It is easiest to maintain, hypoallergenic and easily matched with diamonds of a lower colour grade. Our 18K yellow gold is made of pure gold mixed with alloy metals such as copper, silver and zinc.
Rose gold is considered by many to be the most romantic metal due to its pinkish hue, which is thought to exude warmth and femininity. Since rose gold is an alloy, "pure rose gold" does not exist. Our 18K rose gold jewellery is made as per industry standards with about 75% gold and 25% copper.
Ring Size Chart
Not sure of your ring size? Read our concise chart for measuring women's ring sizes below. 
Our top tips 
For the most accurate result make sure that you take finger measurements in the evening when the hands are warm, as this is when finger diameter is largest. In colder weather, fingers are slimmer – sometimes up to half a size! You want to make sure that your ring will fit whether the wearer is warm or cool and that it's never too tight.
While our ring size chart offers a good reference, we recommend you get your ring sized professionally in one of our boutiques. If you can't visit, simply follow our ring size chart.
Inside Diameter

Inches
MM
USA
UK
HK
0.554
14.07
3
F
6
0.562
14.27
3.25
F½
6.5
0.57
14.48
3.50
G
7.25
0.578
14.68
3.75
G½
8
0.586
14.88
4
H
8.5
0.594
15.09
4.25
H½
9
0.602
15.29
4.50
I
9.5
0.61
15.49
4.75
I½
10
0.618
15.7
5
J
11
0.626
15.9
5.25
J½
11.5
0.634
16.1
5.50
K
12
0.642
16.31
5.75
K½
12.5
0.65
16.51
6
L
13
0.658
16.71
6.25
L½
14
0.666
16.92
6.50
M
14.5
0.674
17.12
6.75
M½
15
0.682
17.32
7
N
15.5
0.69
17.53
7.25
N½
16
0.698
17.73
7.50
O
17
0.706
17.93
7.75
O½
17.5
0.714
18.14
8
P
18
0.722
18.34
8.25
P½
18.5
0.73
18.54
8.50
Q
19
0.738
18.75
8.75
Q½
20
0.746
18.95
9
R
20.5
0.754
19.15
9.25
R½
21
0.762
19.35
9.50
S
21.5
0.77
19.56
9.75
S½
22
0.778
19.76
10
T
22.5